I have nearly an entire month off for my winter break; however, as I have nine animals at my house and not all that much in terms of cash, going anywhere for any sort of extended period of time isn't exactly feasible at this point. I had run up to Georgia twice previously during my break - once to borrow mom's truck and once to return it (and, of course, ended up finding this year's December Dog). As this weekend was one of the few forecast to be sunny for the foreseeable future, I decided to make another run up there yesterday just for the hell of it - and because my mom wanted to borrow my power drill. And, since it was such a gorgeous day out, I decided that instead of just heading straight on up, I'd stop at a couple of spots to take some photos.
The first place I stopped was at Alligator Lake in Lake City, at the boat ramp behind the DOT:
As I was finishing up and heading back towards my car, I was approached by an elderly African American fisherman (blaring an Evangelical sermon at top volume from his truck). "Have you been to Watertown to see the eagles?" he asked. I'd had no idea there were eagles in Watertown, and said as much. "You know where the Watertown dock is?" he asked. I nodded, although as I hadn't been out that way since the late 90s, I wasn't entirely sure I could *find* the lake, much less the dock. "They're nesting in them trees, just left of the dock." I wished him a good day, and he wished me good luck. I got in my car and looked up Watertown Lake on Google Maps and set off. A random man tells you there might be eagles, you damn well go looking for eagles. You might find Gwaihir.
Sadly, I did not see any eagles. I may have gotten some strange looks from the mother and daughter sitting on the dock as I paced around with my camera muttering things like Dammit, the Eagles aren't coming! but I did get some decent lake photographs.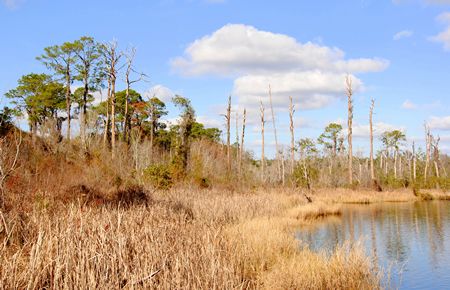 These would be the alleged eagle-trees. I scanned them meticulously with my zoom lens at full, but not a Windlord in sight.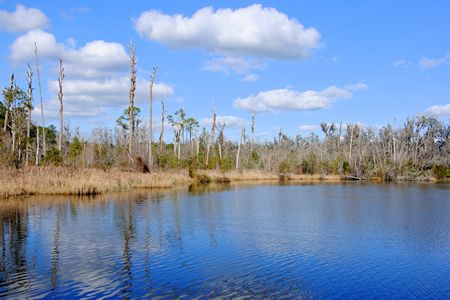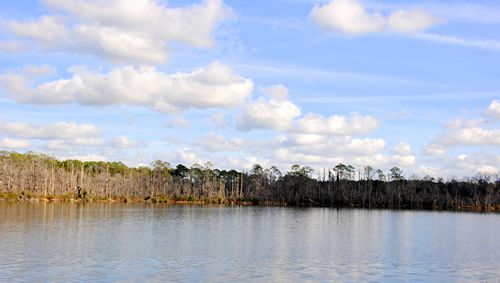 A shadow lies to the east...
I remained quite skeptical as to the existence of eagles at Watertown Lake until just a few minutes ago when a bit of googling led me to this. Maybe not Gwaihir, but certainly one of his smaller American brethren.
After getting delayed in Lake City much longer than expected, I decided to forego any other side trips for photos until I got to just outside of Waycross. Recently a friend of mine had told me that her husband's family was from Waycross, and that a bunch of his relatives were buried up there. I asked her which cemetery, and while she didn't know the name, she said it was located next to a very primitive Baptist church, and that there were several rows of palm trees in the cemetery. I knew exactly what she was talking about, and figured I'd swing buy and see if I could hunt up any of her in-laws. Unfortunately, as the relatives in that cemetery are on someone's mother's side, I wasn't sure who I was looking for, but I did get some general shots to share with them.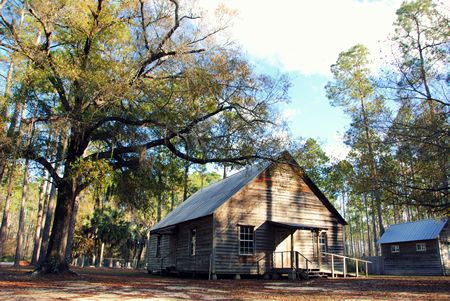 Suwannee Chapel
On the road out, I stopped at a cotton field I'd photographed four or five years ago - still as picturesque with the ripe cotton, tumbledown barn, and trees dripping with Spanish moss:
A little farther along, this fellow flew across the road in front of me, then kindly posed for me in a tree: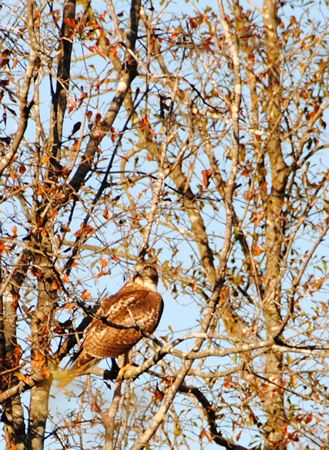 And finally I made it to my mom's. Or almost to my mom's, anyway. Her road is flooded (again). While I'd driven through it a couple times during the truck-borrowing adventure of a week ago, we've had a ton of rain since then. While I've subjected my poor 2003 Toyota Echo to the waterhole numerous times over the years, I figured at this point mom should come and get me with her truck.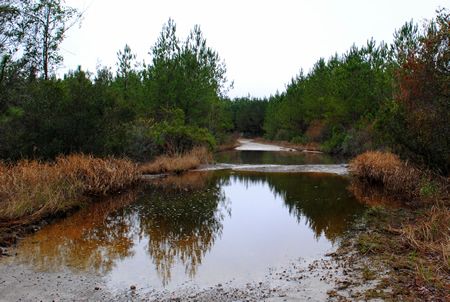 One of mom's dogs came home with this the other day; she has it up on her gate post.
We didn't do much, other than hang curtains (thus the power drill) and go for a walk - although I did get to meet her December Dog, a puppy she has named Sunny who was dumped outside of Frank's house on the Solstice.
Mom and Sunny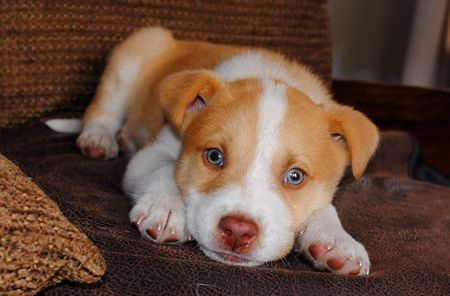 Isn't he adorable? And those blue eyes!
I had to head right back home today in order to take care of my crew, but I couldn't resist stopping and taking a picture of this ironic gem in the poverty-stricken Five Points district of Lake City. In front of a closed down and empty convenience store. And in front of a box collecting donations for the poor. I still can't believe Rick Scott got re-elected.