It's amazing how attached I am to the idea of taking copious amounts of photos everywhere I go, and how utterly despondent I feel when I lose said photos. Normally I use my DSLR for important things (like, say, my birthday). However, since I knew my birthday adventures this weekend would involve water, I decided to use my much less valuable point-n-shoot instead. When it crapped out pretty much right at the get go, I switched to my phone. My phone takes pretty excellent pictures, so why not, right? Well, after photographing a perfect day out on the Gulf in Frank's boat, horseshoe crab sex, my mother kayaking on reflective water under a gorgeous sky, and our very fancy dinner at a fabulously swanky restaurant with an amazing chef located inside a restored old lodge, seeing this lovely message appear as I was in the process of copying the photos from my phone to my laptop pretty much ruined my day: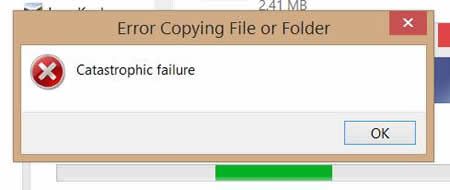 I mean, "catastrophic failure"? Well, I guess that's another way of saying "Haha, no matter what you do, your photos are completely non-recoverable." And after wasting about two hours trying everything I could find (and that Google could suggest) for how to recover them, I have come to the conclusion that all my photos are simply lost. This post won't be nearly the same without them. I have a couple of photos that I uploaded to facebook during the course of the day, and the one decent pic I snapped on the point-n-shoot, and that's it. Ahh well.
I met my mom and Frank at Dekle Beach in the early afternoon, and we decided to take Frank's boat out into the gulf. We rode out from Dekle, past Keaton Beach and over to Dark Island before heading back in to shore.
Mom on the boat
Crazy boat-hair selfie
Then we discovered that it must be horseshoe crab mating season, because there were a couple of them going at it by the boat ramp, completely oblivious to the humans tramping around and doing things like backing a ramp into the water and hauling a boat out. I was thoroughly fascinated by this. Later in the afternoon, when we went for a bike ride, we came across a legitimate horseshoe crab orgy. I kid not - I counted 17 of the beasts, all getting busy.
My mom took her kayak out in the canal behind Frank's house, and I got some really great pictures, which sadly no longer exist. Arrrgh! I do, however, have this rather mundane shot of my feet in a hammock, taken while my mom was out paddling.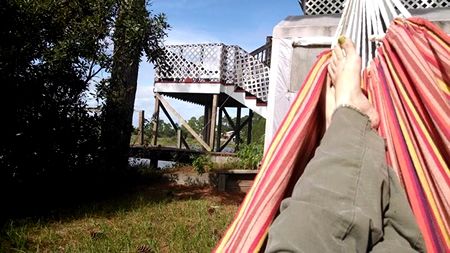 After our various water adventures, it was time for dinner. During my trips to Dekle Beach since Frank bought a house there, I'd driven past an old historical building on the outskirts of Cross City. Last year, it had been closed up, seemingly abandoned. However, this summer, when driving to Dekle, I noticed that it had been fixed up and opened as a hotel and restaurant. I'd wanted to eat there ever since I realized it was open for business, so my mom and Frank decided to take me there for my birthday. The place is called the Putnam Lodge, and it is most definitely worth the drive to the middle of nowhere in Dixie County, Florida. The food there was incredible - some of the best food I have ever eaten in the United States. It not only tasted unbelievably scrumptious, but it was quite beautifully arranged so that it made for some great pictures... which of course I no longer have. And the fully restored 1920s lodge (built for the executives of the Putnam Lumber Company) provides a wonderful ambiance for such a tasty dinner. Plus, it wasn't overly expensive; the price was pretty comparable to eating at any chain restaurant like Applebee's or Olive Garden, only the food was exponentially better. I uploaded a selfie at dinner, and sadly, that's the only photo of the place I've got.
However, the Putnam Lodge's website (http://putnamlodge.com) and facebook page have some great pictures of both the lodge itself and the food that they serve. It is most definitely worth the drive, and I very much want to go back.