I love my little yard. Much of it is overhung by trees, giving it a magical, shady feel. That area also seems to have a LOT of snails. Not sure why, although as I love snails, I have no complaints about this. I also have mushrooms. Something about all the snails and mushrooms makes it feel a bit like fairyland to me. Meanwhile, I got some starter fluid for my mower and it started right up and I was able to mow the sunny/grassy parts of the lawn.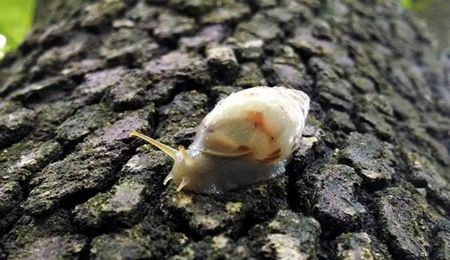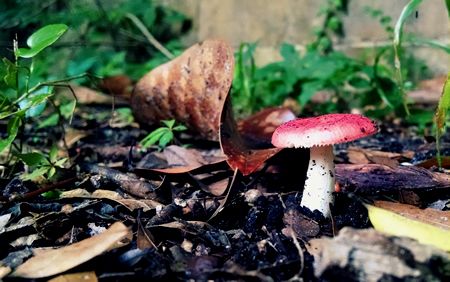 I started clearing out the space next to the shed. The shed (which is going to have to go in a year or so as it's leaky and ugly - although it'll do for now) is in a stupid place. Its location kind of forms a corner for the yard, and the area behind it is all overgrown. When I eventually do get a new shed, it's going to go back in the corner so the yard will have more room. For now, though, I figured I should start clearing out the space to the right and rear of the shed. That area is going to be fenced in for the dogs that I'm getting from my mom. Granted, they'd have no problem going in amongst the weeds and brush and spiders, but if I have to go in after them, I'd like the area to be open. I was surprised by how much space was back there once I was able to clear a way in. (Although I felt very much like Bilbo tackling Mirkwood with all the spiders in there - and me with my small-sized pruning shears to fight them with!)
I also started decorating. I don't have any furniture in there yet other than my bed (and it might be some time before I have much furniture at all), but I figured I should at least start hanging things. I framed my diplomas and hung them in the corner of my ginormous bedroom (where my office is going to be) and found places for my Kyrgyz shyrdaks (felt rugs) as well as a Dr. Who poster and a map of Numenor. There's a detailed map of Kyrgyzstan in my dining room, and a Kandinsky print in the living room, so we're off to a good start decor-wise. I'll be heading back up to GA tomorrow to get some more of my furnishings out of storage.