I HAVE A JOB! I have a job, doing exactly what I want to do, at exactly the place where I want to do it. And it's here in Florida. (Warm! Close to home! Although I might be wondering why I was so excited about the 'warm' aspect come July...) The good news is that I have a full-time job. The bad news is that it's only guaranteed for the summer, and while it is highly likely that I would have continued employment in the fall, it is also likely that fall employment would be part time. But, it's exactly what I want to do at my number one choice of location. Yipee!!
Now I just have to find a place to rent in the space of a week. Unless I can come up with the funds to buy something in the space of a week. Haha.
I'm currently waiting on private property owners with listings on Craigslist to get back to me before I wade into the scariness of apartment complexes. So we'll see. My new job starts May 13th!
In the interim, here are some photos from my trip up to GA this past weekend: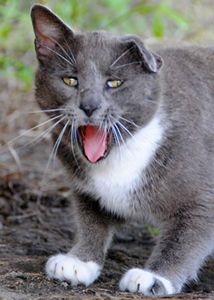 Solly had a hematoma in his ear. The surgery to fix it left him with a permanently flappy ear.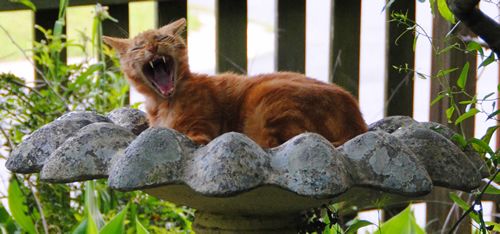 Reddy, roaring in the bird bath. (And by 'roaring' I mean 'yawning.')

I borrowed Nadya and took her to my house. She was an excellent inside dog. She only tried to get up on the bed once, and after I told her no, she stayed on the floor. She got along well with Mochi - and even used his pee-pad in the middle of the night.