While I have mixed feelings about the fact that I shelled out a rather large sum of cash to attend the TESOL 2014 conference, my feelings about Portland itself are not mixed at all: I love Portland. Portland is a pretty awesome town on just about every level and I had a fantastic time there. I could definitely see myself living there, except for the fact that the cost of living is a bit too high for me and I would be absurdly obese from all of the amazing food available. In addition to seeing Portland itself, I got to meet up with several people whom I hadn't seen in years, as well as one person whom I'd previously only known online, and we had a lot of fun.
On Wednesday night, after the keynote address (see my previous post), I met up with a blogger named Joy (of ForeignerJoy and AmericanJoy), whom I've known online for years now. We were in Korea at the same time, although we never met in real life. She is now in a Master's program for TESOL in Seattle - where she lives with her black and white mustachioed cat that she brought home from Korea :-) She and her boyfriend had come down for the conference, so we got together and wandered around downtown for a bit before settling at a delicious Mexican restaurant called Santeria. (Note: they give you a TON of food here - if you're staying in a hotel sans fridge and microwave and therefore can't take leftovers, order less and share!)
Joy
Joy and Ian
After I left Joy and her bf and hopped on the MAX (the light-rail) to head back to my hotel, I ended up having quite a bizarre ride. I've never had a public transit ride that was full of so many talkative, funny people - one of whom was a local ESOL teacher who was also attending the TESOL conference. We talked about bad smells, Israeli Mossad, ballroom dancing, and (of course) the TESOL conference, among other things. Then one guy says 'I'm gonna take a selfie, who's with me?' and everyone in the car got up, so I figured I would, too: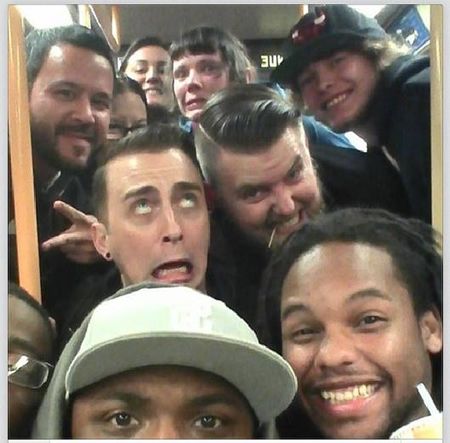 Wednesday night I realized (via Facebook) that Brooke - a friend and former coworker from my days teaching in Vladimir, Russia - was in Portland for the TESOL conference as well. She was presenting at the conference and had a pretty hectic schedule, but we agreed to meet up for lunch on Thursday. We decided to head for the Georgian food food-truck. Apparently food-trucks are a Hugely Big Deal in Portland, and you can get pretty much any kind of food from these things, and they are DELISH. Now, if you know me or have read any of my blogs for a while, you probably know that Georgian food is my absolute favorite food ever, although it is a huge challenge to find it in the US - especially in my part of the US. And Portland sells it out of the back of a food truck. Heaven! So not only did I get to see a really wonderful person whom I hadn't seen in ages, I also got to chow down on some exquisite Georgian food. Win!
Georgian food! If you're in downtown Portland, eat here.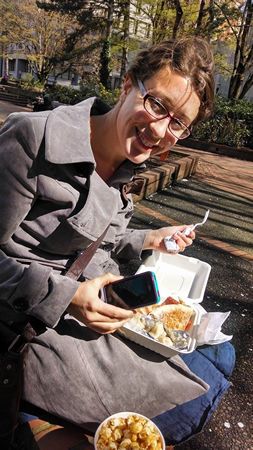 Brookinchka!! :-)
Cheese khachapuri, lobio khachapuri, khinkali, eggplant salad, other-veggie salad = TASTE BUD HEAVEN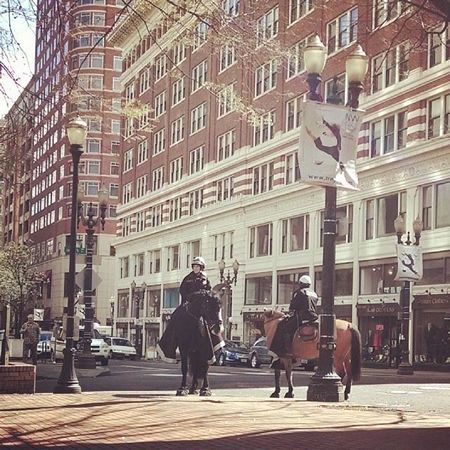 While we were eating, horse cops rode by!
Friday evening, I met up with Jill and Johnny - two friends of mine who moved to Portland from Florida ages and ages ago, and whom I hadn't seen since 2004. I had a great time catching up with them - and we had some great food, too, including some lovely Vietnamese dishes and the most amazing ice cream I've ever tasted at Salt and Straw. We finished the evening at some woman's house (the wife of a friend of a friend or something), drinking wine and discussing our favorite NPR personalities. I kid not.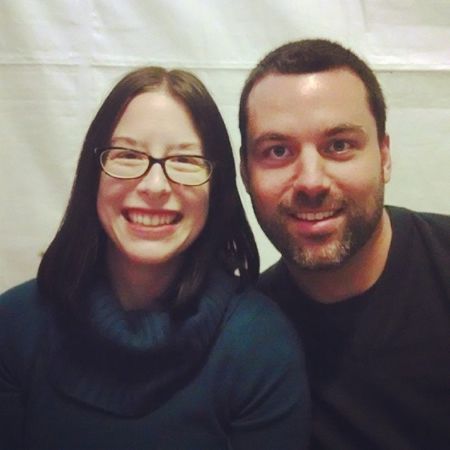 Me & Johnny
Me & Jill
Some sort of Vietnamese mushroom dish
Saturday was pretty chill. I have my comprehensive exams for my MA coming up, so I spent some time studying for them. There was a local restaurant (the name of which I've sadly forgotten) located not far from my hotel where I had a wonderful brunch consisting of the best latte I had all week (and it's Portland, so I had some amazing lattes), as well as an omelette stuffed with some kind of specialty bacon and topped with salsa, fresh avocados, and sour cream. I camped out there for a while with my study notes.
That evening, my friend Linda (whose poetry blog is here, BTW) arrived. She and I knew each other ages ago when we both lived in San Diego, CA, and while we've kept in touch over the years (yay, internet!), I hadn't seen her since 2005. She now lives in southwestern Washington, and she drove down to spend some time with me. Earlier in the week, I had discovered that my hotel was within walking distance of an all-you-can-eat Indian buffet restaurant called Namaste, which was excellent. Linda mentioned having eaten at a delicious Indian buffet north of town on a previous trip to Portland, and upon hearing her description I was pretty sure it was the one near my hotel. So we walked to it, and it was! Nomnomnom.
Linda and Indian food, yay!
Linda and I had a great time catching up and sharing stories about all sorts of things from the past nine years of our lives. We also spent Sunday exploring downtown Portland. While the weather on Friday and Saturday had been pretty abysmal (even locals were complaining about how unusually heavy the rain was), Sunday was gorgeous. We drank a good bit of coffee, bought some specialty chocolate and some mouth-watering cupcakes, spent a bit too much money on souvenirs, and camped out for a while at a noodle shop. It was absolutely lovely. I could do that every day.... except that my bank account would probably rebel pretty quickly.
Linda and some Pad Thai
Linda and a cool elephant statue thingy, which (sadly) was too slick to climb.
Chinese Garden in Chinatown
Funny Chinatown signage
Cross-posted at International Cat Lady of Mystery.