Yes, I am a cat lady. Nonetheless, it seems as though every December I suffer some sort of dog-related crisis, and this seems specifically related to the fact that I am quite often in southeast Georgia during December. In December of 2012
I got into it with local animal control
up there over some stray dogs, and ended up
bringing troublemaker Nadya home with me
. In December 2013 it was (among other things)
the litter of puppies my mom and I found
dumped in a Budweiser box on the side of a country road on Christmas morning. This December, as I was on my way up to my mom's, I found a skin-and-bones long-haired chihuahua-mix on the side of the road out in the boonies.
This dog, now named Sadie, turned out to be one of the sweetest and best-behaved dogs I have ever rescued. She had obviously once been cared for (she loves to snuggle and is potty trained!) although not recently. When I found her, not only was she incredibly skinny, but she was also crawling with fleas and infested with roundworms. And, unfortunately, a trip to the vet revealed that she was heartworm positive. However, thanks to the wonders of the interwebz, she now has a forever home with a woman I grew up with and her family.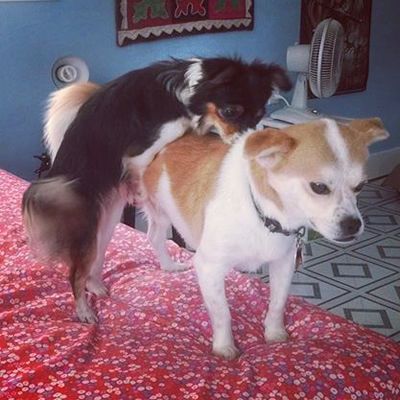 Mochi wasn't exactly thrilled with this development. Yes, she was humping him.
Sadie at her new home :-)
And then, of course, my mom found this little guy. It's hard to tell from the photo as there's nothing for scale, but he's only 5lbs - which makes him smaller than Sadie!