Yesterday the weather was lovely: highs in the 60s, sunny, clear blue sky. I decided that since it was such a lovely Saturday, I'd head out and take some pictures at one of the nearby springs. (High Springs gets its name from the high concentration of springs in the area.) There is actually rather a large number of springs within a short drive of my home. I could have gone to any of them. I chose to go to Ichetucknee Springs, which is not one of the closer ones, although given how close it is to where I grew up, it is the first spring I ever remember visiting as a child. It's packed with swimmers and tubers all throughout the warm months, so I never bothered going up there this summer - who wants pictures full of strangers in suspect swimwear? However, since the temperatures have dropped (even though this weekend was fairly warm) I figured the park would be pretty empty. I planned to hike around and take copious photos, as I do.
I got out of my car and was walking towards the main spring head when I heard it: MEOW! I mean, come on. Thousands of people visit Ichetucknee every year. The day *I* visit there's a stray kitty in the parking lot. She wasn't exactly feral or timid, but she wouldn't get close enough to catch, either. She made herself known and made it known that she was hungry, but she wouldn't let anyone catch her. I tried for over an hour, first with some stale old candy-corns that had been in my car for about a month and a half. Yes, she ate them. No, I wasn't able to catch her. Then I raided the trashcans in the picnic area for anything that might serve as bait. (Yes, I went dumpster diving for cat food. In public. People saw me.) I found half a pack of sliced ham that someone had thrown away. Score! Kitty loved it.... but was still way too fast for me to catch.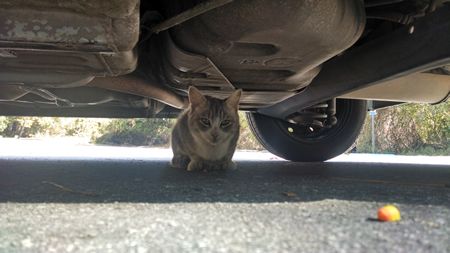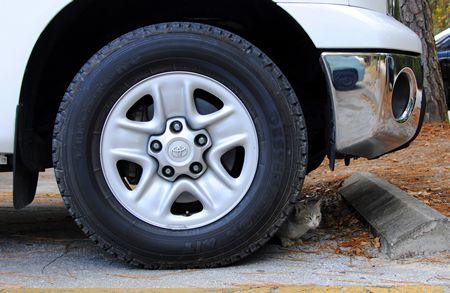 After over an hour, I decided to take a break from cat hunting and do what I'd come to do: take pictures of the springs. The springs looked great. The park is clearly doing a lot of restoration work around the main spring head to make the area surrounding it more natural (gone is the lawn of grass for sunbathers right alongside the springs, for example), and the water was very clear. There was more dark algae inside the spring (on rocks and such) than I remember from my childhood, but given the health issues of so many of Florida's springs, this was not too shabby. I was really amazed by how great Blue Hole Spring (the secondary spring source of the Ichetucknee river) looked. I always remember it as quite stagnant and covered in duckweed. However, it was clear, flowing, and surrounded by lovely fall colors.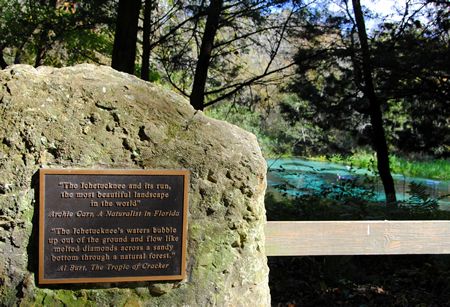 Main spring head
Main spring head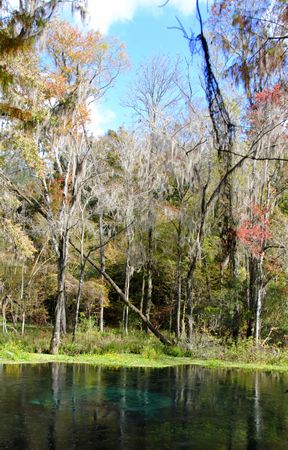 Blue Hole Spring
Blue hole spring
I returned to the parking lot and the kitty came trotting up, meowing, but again, wouldn't let me close. I talked to several other people who also said they'd tried to catch her but hadn't had any luck. In the end, I put out the last of the sliced ham and drove home...
And felt bad about the kitty all night. She'd obviously been surviving off cast-offs from park visitors, but park visiting season was over. She wasn't big, and she was pretty skinny... and the temperatures are going to be in the low 20s on Tuesday night. Her chances of survival weren't good.
So I went back today with my cat trap: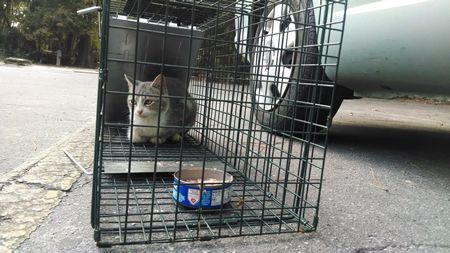 She went in and out of the damn trap FOUR times before setting it off.
This is not the best picture of Polly, but I wanted you all to see her feet - she's a polydactyl! I have a cat with opposable thumbs - she may just take over the world! This is (obviously) why I named her Polly.
She is very timid and scared, although I can pet her and she will purr. She often seems to think that as long as her head is hidden, no one can see her.
But she's already warming up to this idea of being a house cat.a