So I've been pretty shitty at keeping up with the whole blogging thing of late. It's been nearly two months since my last post. I go through phases when I wonder what the point is - especially when I'm living here in the US - when I feel like blogging is somewhat of a useless endeavor. I mean, everything I'm going to post here now has been posted on Facebook during the course of the past two months, and I doubt there's anyone reading this who wasn't referred from a link on my Facebook page. I'm going to post today, but as to whether or not I'll keep up the practice, that remains to be seen.
I had nearly all of the entire month of August off, which in many ways was great. Who doesn't like having nearly an entire month off? Well, as someone who hadn't saved any money over the summer (new house expenses and all that) and who had been told she would only be teaching part time in the fall (luckily that turned out not to be the case; I'm teaching full time), going on the sort of grand adventure that you all know I love was simply not an option. So I stayed here. I worked on my house. I got more animals. I helped my mom move out to her nearly completed 1906 restoration house. Several of her animals didn't survive the move, something which is so unbearably depressing that I cannot bring myself to blog about it. Some of my animals got loose and were headed out of town before I caught up with them. I need a new roof but can't really afford one. Fall classes start in two days, and for the next two weeks I probably won't have time to breathe, much less blog.
I may hold off on blogging until my next bit of traveling, whenever that happens. Or I might keep at it.
We'll see how it goes, although
I'm really not feeling the whole blog-vibe at the moment.
I mentioned that I got more animals. I am now up to eight - four dogs and four cats. When last I posted, I had added Wolfie and Chappie to the menagerie, and Helena had shown up and added herself. Since then I've added Nadya (another of my mom's dogs) and Castor, a puppy that was dumped out near my mom's land. Amazingly, everyone gets along, although Nadya will chase cats if unsupervised. She's also the one who tunneled out from under my fence and led Wolfie on a trek across town. Naughty Nadya's my problem child.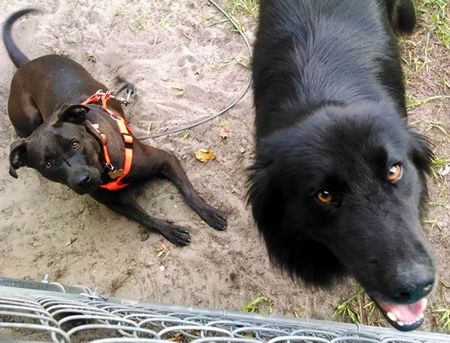 Nadya is on the left, Wolfie's on the right. Now, whenever Nadya is outside unsupervised, she must be on a cable tie-out and in a harness (she's quite skilled at getting out of a collar, and left hers behind when she and the Wolfman went on their grand adventure)
Castor Bean!! Isn't he adorable? How could someone dump something this cute? He's older than he looks (4-5 months, judging from his teeth) so he's probably going to stay pretty small.
Chappie, on the other hand, is turning into a big boy - you'd hardly recognize him as my 'housewarming kitten'! I swear he's going to be as big as Charlie (in the background) in no time - and that's no small feat.
Helena has settled in as well, although she has perfected the art of the dirty look, which she gives to pretty much everyone (four legs or two) all the time.
Mochi *loves* the house and the yard.
Bagira's pretty chill about everything.