You might remember that back in May I moved into a teeny-tiny apartment (about 250 square feet). In case you've forgotten, click here to take a video tour of my apartment. Trust me, it does not take long. For many years now I have been fascinated by the idea of tiny house living, although to be honest I always imagined doing it on a large plot of land out in the boonies, rather than in an ultra-teeny apartment in the center of town. It's been a lot harder than I expected - although not having a yard to go out in might have a lot to do with it. If I'd had a yard instead of a parking lot, I might have found it a bit more enjoyable. As it is, though, I've been feeling a bit cramped lately, and I am definitely looking forward to moving into my house in three days!
I am not an overly messy person although I'm not particularly OCD about keeping my house clean either. However, to live in a tiny house, you need to be very, very clean. One thing out of place, one unwashed dish, one bit of stuff on the floor left unswept, and suddenly, your house is a mess. And well, if multiple things get out of place, your tiny home immediately takes on tornado-aftermath status. On the plus side, it doesn't take too long to clean up, though!
Cats inside a tiny house are a challenge. Charlie and Bagira don't seem to mind living in cramped quarters at all - although Charlie did not like being left on the floor while Bagira and I climbed up into the loft bed. (Unlike Bagira, Charlie never did figure out the ladder.) The problem was the litter box. As you may remember, the litter box ended up under the loft bed, directly underneath the pillow. I have had to climb down the ladder numerous times, bleary eyed and half asleep, in order to rid the apartment of a midnight stinky poop that was wafting its odors up to my pillow. If I had a screened in porch for the litter box, or lived somewhere where they could use the great outdoors - and therefore didn't have to have the litter box confined in such a small space - cats wouldn't be a problem. As it is... well, you can probably imagine.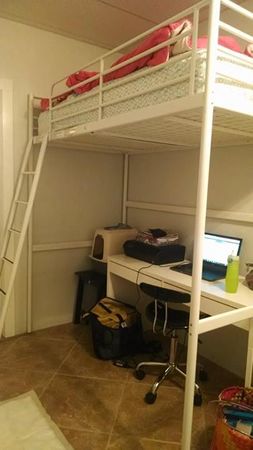 Litter box, directly under pillow.
Now, check out my bathroom sink: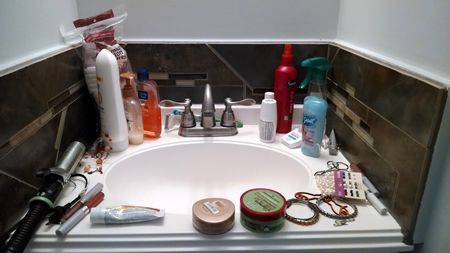 I seriously can't brush my teeth without my elbow banging into the wall. At least now that I've cut off all my hair I don't have the curling iron taking up space, but even my few toiletries have completely filled what little counter space I have. I think of myself as pretty low-maintenance and I don't spend much time in front of the mirror getting ready, but I still have too much stuff for a bathroom this small. And don't even get me started on the closet space (or lack thereof).
Also, it will be nice to have my cats, onions, shoes and books all in separate locations!
To the people living in tiny houses and doing so successfully, I salute you! It's a challenge, and while I remain fascinated by the concept, it is definitely not one that I will be taking up again, at least not any time soon.