As part of the arrangement wherein my mom bought me a house (yes, I do have to pay her back), I agreed to take a couple of her animals off her hands - including two of her dogs, Wolfie and Nadya. The plan was to wait until AFTER I got my yard fenced in to add any new dogs to the mix, but when do things ever go as planned?
Mom had found Wolfie as a puppy back in the summer of 2011 (he had been dumped, and was terrified of pretty much everything). He grew into a gigantic - and incredibly sweet - boy... that all other male dogs seem to want to kill. And if he's attacked he doesn't fight back; he just rolls over and screams.
This was Wolfie as a puppy in July 2011 playing with my (sadly now deceased) Koala.
She was Mochi's size, just to give you some scale.

Wolfie, just a couple of months ago, prancing around with his food bowl.
Now, mom has two Alpha Males (Brin and Viktor), who must be separated from each other and from Wolfie at all times because for some reason they want to eat him. Brin is kept in the house, Viktor has his yard and pen, and Wolfie had his. However, on Thursday night people began setting off fireworks, causing Wolfie to climb into Viktor's yard in an attempt to get into the house. Luckily, mom was able to get up and corral dogs in various places before all hell broke loose. However, as she was planning to spend Friday night down in Florida for the Fourth, she figured it wouldn't be safe to leave Wolfie behind. So, I agreed to take him a little bit early.
Wolfie has been having the time of his life, going from one of eight dogs to one of two, getting to come in the house, eating barbecued ribs... he wasn't even upset by the fireworks that Frank set off (I guess as long as his humans were around, he was OK with them).
Wolfie looks like a bear here.
Wolfie, mom, and Frank
Wolfie at Frank's
Nature's fireworks on the Fourth of July
Frank's fireworks. (I didn't think to start filming until after the best ones had already gone off, unfortunately, but you get the idea.)
Meanwhile, a couple of weekends ago an acquaintance via Facebook had two kittens dumped in her front yard. She was unable to keep either of them, although was quickly able to find a home for one. She had a couple people offer to take the remaining kitten - only to then back out. I saw the little guy - a perfect twin for Charlie - and told her that if no one had taken him by the time I moved into my house (due to my fumigation schedule, I couldn't move in until July 5th), I would take him. Well, no one else snagged him, so Saturday morning Wolfie and I drove to Lake City and picked up Chappie (from Charlie Chaplin, as I already have a Charlie).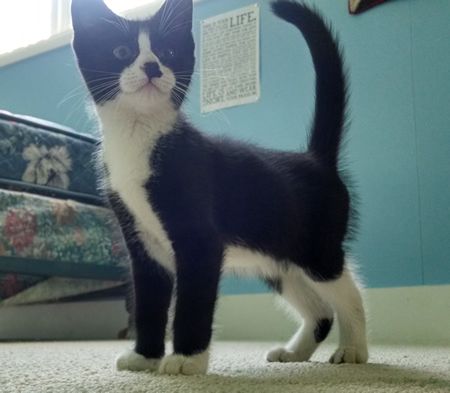 Chappie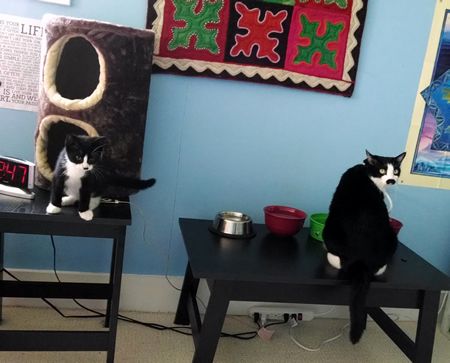 Chappie and Charlie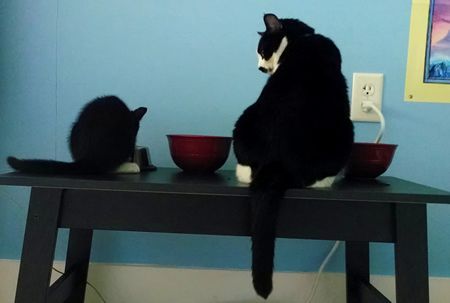 "Eat more, and one day you may be like me."
Charlie, Mochi, and Bagira were all kind of terrified of the kitten.
The kitten, meanwhile, was the only one scared of Wolfie.
Mochi and Wolfie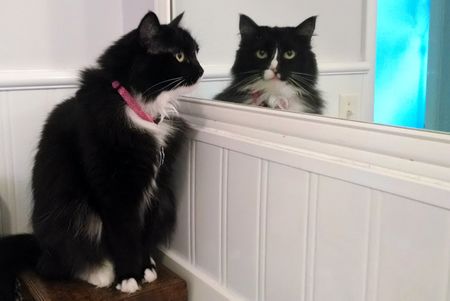 Bagira, meanwhile, thinks her twin lives in the bathroom mirror
I'm still working on housebreaking Wolfie and Chappie. Chappie doesn't seem to quite get the litterbox concept, and Wolfie won't go if someone is watching him. As I don't have a fenced in yard, he has to go out on a leash, and apparently he has performance anxiety. Even watching Mochi pee on every tree and bush in the yard didn't encourage him. He will, however, go on the floor in the house if I am in the other room. Sigh. Gotta work on that.