You know you're getting old when you spend your Friday night buying and using cleaning supplies and enjoying it. I'm either getting old or turning into a '50s housewife. The new old house is actually quite clean - cleaner than a lot of places I've rented over the years - but I still needed to buy basic housecleaning stuff. I got home around 10pm, and was up bright and early this morning to head back up there to continue the cleaning process... and to get my hair cut.
I could easily have gotten my hair cut here in Gainesville, but I figured that if I'm moving to High Springs, I should get a hair stylist in High Springs. I also wanted to do something VERY different with my hair. My office is a 15 minute walk from my classrooms, meaning that even once I move and am no longer walking to work, I will still be spending a lot of time walking around outside in the hot Florida sun. I'd been putting my bobbed hair into a short and rather unattractive pony tail for weeks now, just to get my hair off of my skin. I went back and forth over whether or not to just chop it all off, and finally decided to go ahead and do it. I went to the Talk of the Town Salon and had the owner, Antoinette, give me an incredibly short do:
Afterwards, I stopped in at the High Springs Coffee Company for some caffeine and a bagel to sustain me through an afternoon of driving. This is a fairly new coffee shop (I wouldn't have known, as the whole town is new to me, but apparently they've only been open a few weeks), with a great ambiance, friendly people, and tasty food and beverages.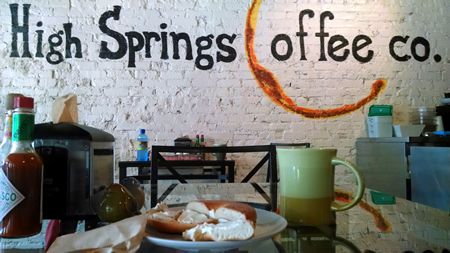 Then I drove from High Springs to Dekle Beach, where Frank (my mom's bf) has a beach house. Frank had decided that he didn't want to have to deal with mowing the yard at his vacation home, so he hired a landscaping service and offered me his lawnmower. As the grass in my new yard is already starting to get out of control, I jumped at the chance for a free lawnmower. I have a key to his place, and he told me where inside his house he keeps the key to his storage shed. So I drove the hour and a half to Dekle to pick up my lawnmower... only to discover that my key (which I'd never before tried to use, as I'd always gone to Dekle with my mom and Frank) didn't work. Let's just say I may have a future career as a cat burglar, because I got myself inside that house anyway.
Dekle is located on the Gulf coast, directly west of High Springs. Unfortunately, there isn't a straight shot to get there; you either have to drive way out of your way to the north or to the south. The distances are almost identical, so I made the loop.
I loaded up the lawnmower (hanging out the back of my open trunk) and drove it back to High Springs. Of course, this being Florida, we had a lovely late afternoon downpour, which filled my trunk with water. It also may have filled the mower with water because after all that, I couldn't get the damn thing to start. I'm going to try draining the gas tank and filling it with fresh gas tomorrow. Meanwhile, my right arm is killing me from all the times I yanked on the pull cord.
I also went to Lowe's and loaded up on more stuff for the house - gas can (for the lawn mower), shovel and rake, mailbox and stand, paint scraper, power drill, blinds, hose, etc..... I suspect I will be spending a lot of money at Lowe's over the next year. Almost everything I got was stuff that I needed - except for the lantana. I love the way lantana looks AND it's one of the few plants that is hardy enough to survive living with me. (Or without me, if you think about how my Georgia lantana is thriving in my absence.) My house has a bracket for hanging a hanging-basket of some sort, so I bought a basketed lantana.
My lantana in its hanging basket
Tomorrow, my plans are to sleep as late as my body wants, and then to drive up to High Springs to see about installing blinds (something that is never, ever a fun experience).