Depending on where you live in the US, there are quite a few places where it makes more sense to buy a house - if you can - than to rent. North Florida is one such place. True, there are plenty of very expensive houses, but if you're lucky, you might stumble across a very good deal. One that you could purchase for the price of 4 years of rent (or less, if you're planning on renting more than a one-bedroom apartment).
Of course, you'd have to be able to get a mortgage (I can't, despite having a kickass credit score and a full-time job. Yes, I tried. They've apparently cracked way the hell down since the housing bubble burst.) or you'd have to be able to pay in cash. I couldn't do that either. But like I said, I am very, very lucky. My mom and her bf have lent me the money to buy a house! And we've bought one!
We looked at quite a few houses within commuting distance of my job, all in the under-$40k price range. Most weren't habitable. A couple were, but were kind of gross and needed a lot of work. Or they were in really bad neighborhoods. Or they were combinations of all of the above.
Then there was one foreclosure that didn't look so hot on the outside, but which had been almost completely redone on the inside. It was bank owned, and they were asking $39k. We got it for $30k. I keep waiting to wake up from this ridiculous dream, because it seems like we have gotten a hell of a deal. It's even in a decent neighborhood! True, there's still a good bit that will need to be done. My immediate concerns are getting it fumigated for termites (sigh) and fixing the roof (it seems to be the original roof from 1920, when the place was built, and it's mostly okay, but it leaks over the laundry room), and getting the yard fenced, which are all expensive endeavors, but....
I have said for years that I wanted a peach kitchen. And this one is not only brightly peach, but has green counter tops! I bought a house with an orange and green kitchen!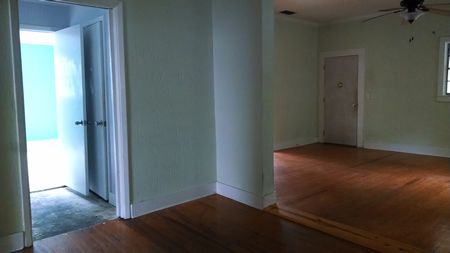 Standing in the dining room, looking towards the living room and the hallway to the master bedroom. That hallway is the one bit of floor that hadn't been done.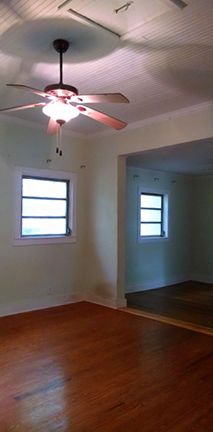 Living room, facing the dining room.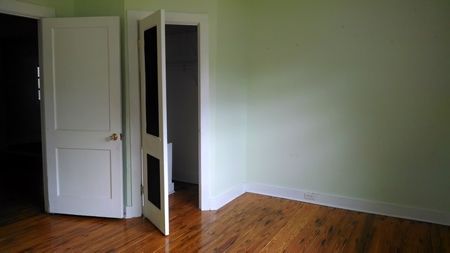 Spare bedroom
The master bedroom is ridiculously huge.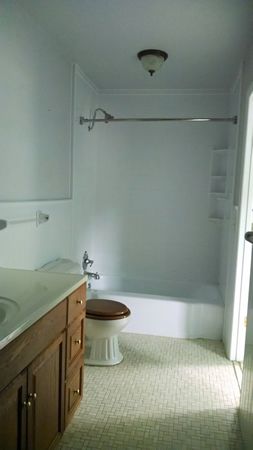 And the bathroom has been redone!
Here's a video tour, set to music by Sirena, in case you're interested :-)
A HUGE thank you goes out to my mom, to Frank, and to Candy Anderson of Watson Realty!