It has been a very busy week. I've gone about 1000 or so miles (both as driver and as passenger), and have moved into my new place in preparation for starting my new job on Monday. Last Saturday was my last day of work in Orlando (yes, I occasionally had to work on Saturdays). After work wrapped up, my dad and brother drove over from Tampa to help me load most of my stuff into a 14' U-Haul.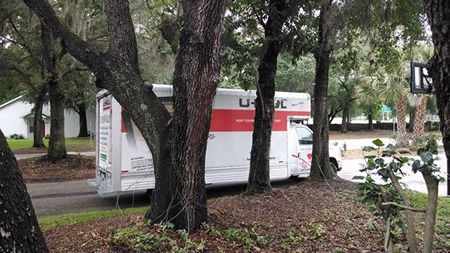 On Sunday, I drove The Beast, as I affectionately named said U-Haul, up to Georgia. I had expected to be terrified and cowering in the slow lane at 55mph, but it turned out to be quite fun to drive. Once getting to Georgia, my mom and I had to unload The Beast. Let's just say it goes a lot easier when you've got muscular dudes helping as opposed to when it's you and your nearly 70 year old mother... but we got everything unloaded. The living room looks great... except for the bed in the corner. My Georgia house is a two bedroom house which already had two beds, so into the corner bed #3 goes for now.

The living room looks great at this angle!

...then there's the random bed in the corner!
Then I had to be driven back down to Orlando so that I could get my car, which I drove first to my new city in Florida, and then back up to Georgia to pick up my cats, then back down to Florida.... I am a bit sick of driving at the moment, especially as my car's AC has suddenly become awfully iffy.

After picking up my car then spending the night in our new place, Mochi and I drove up to GA to pick up the cats.
You might be wondering why I moved all of my furnishings to Georgia if I was about to be starting a new job in a different city in Florida. Well, this is because I sublet a teeny-tiny furnished apartment for the summer - and when I say teeny-tiny, I am not kidding; it's about 250 square feet in total. A lot of folks who have seen my pictures and videos of my new place on Facebook have been somewhat aghast at the teeny-tininess of my apartment, but I quite like it. For one thing: location, location, location. I can walk to work! As I'm a bit tired of cars at the moment, this is nice. And I'd much rather swelter in the fresh air than in a car with a blown AC when going to and from work. I've been fascinated by the tiny house concept for some time, and this gives me the opportunity to live in a tiny house (albeit not out in the country as I've always imagined!) and to see how it goes. The biggest challenge so far has been for the pets. Mochi has slept with me since the day I got him from the shelter in Seoul, but as the apartment has a loft bed, there's no way that he can get up into it. (I could lift him up there, but he can't make it through the night without a trip to the pee-pad, so that wouldn't work.) The cats... well, Bagira figured out right away how to climb the ladder (I have a video of this hilarious super-cat feat below), but Charlie just doesn't get it at all. She cried piteously until I carried her up there last night. (Believe me, I had tried to wait her out... but when she was still yowling at 4am, I gave up and brought her upstairs. I had to carry her down in the morning, too.)

This is where I'll be living for the summer as seen from Google Street View.

Take the grand tour of my apartment - it doesn't take long!

Watching Bagira climb the ladder is one of the funniest things I've ever seen. Watching Charlie express her dismay at being left on the ground is pretty funny, too (except when you're trying to sleep).

I got Mochi a bed because I was feeling guilty at leaving him on the floor. Luckily he loves it!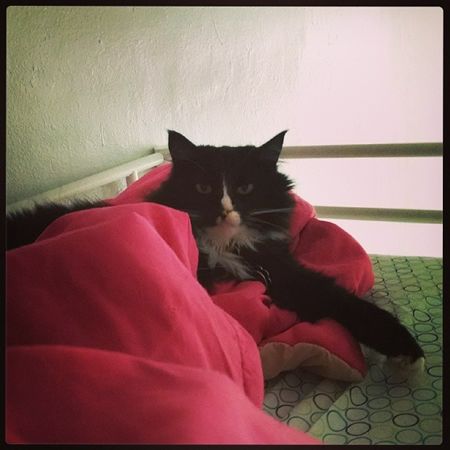 Bagira "upstairs"

Mochi in his bed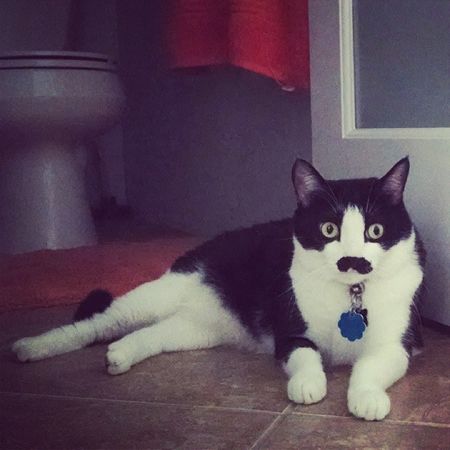 Charlie, still somewhat disturbed by all of this